Real Money Ludo Games – In the ever-evolving online gaming landscape, one genre has emerged as a source of entertainment and a way to earn real money: Real Money Ludo Games. Combining the classic joy of Ludo with the excitement of winning tangible rewards, these games have captured the attention of players worldwide. Let's delve into the top contenders in this thrilling arena and discover how they change how we play and win.
What is an Online Ludo Game?
Ludo games online are digital versions of the popular board game, Ludo, now accessible through various platforms like smartphones and websites. In some versions, players can engage in real money Ludo games, competing against opponents for monetary rewards. This innovative concept has led to the emergence of the best-earning apps, providing opportunities for players to win real cash while enjoying the classic game. These apps combine entertainment and competition, allowing users to test their Ludo skills and potentially earn money simultaneously, making them an appealing choice for those seeking entertainment and additional income streams.
How to Find a Real Money Ludo Game?
To discover a real money Ludo game, search for the best-earning apps that offer Ludo with Paytm cash rewards. Look through app stores using keywords like "real money Ludo game" or "best earning app with Ludo Paytm cash." Check user reviews to determine an app's credibility. Ensure the app is reputable, secure, and follows fair play regulations. Research the app's payment methods, withdrawal process, and terms. Be cautious of scams and verify the app's authenticity before participating.
Top 7+ Real Money Ludo Games with Ludo Paytm Cash
Here are the top 7+ amazing real money ludo games with Ludo Paytm cash and instant withdrawal:
As one of the pioneers in Real Money Ludo Games, Ludo Sikandar stands as a true icon. Offering a seamless blend of traditional Ludo gameplay and modern winning opportunities, Ludo Sikandar has redefined how we perceive online gaming. As a result of its easy-to-use interface and secure payment gateways, players can enjoy the game while experiencing the thrill of real cash rewards.
Ludo Sikandar offers a variety of engaging modes to cater to different preferences, all within the realm of a real money Ludo game.
Classic Ludo In Under 10 Mins:
Experience the timeless joy of Ludo with a twist. Play the traditional Classic Ludo mode but with a time limit of under 10 minutes per game. Quick, thrilling, and perfect for those seeking rapid gameplay infused with the excitement of winning real money.
Go Sikandar - Ludo Without Dice Limited Moves
Step into the strategic arena of "Go Sikandar," a unique Ludo mode where the traditional dice are replaced with limited moves. This mode challenges players to plan and strategize every move carefully, adding a layer of skill and tactics to the game.
Go Sikandar Plus - Dice-Based Ludo Limited Moves
Combining the essence of dice rolls with the concept of a limited move, Go Sikandar Plus provides an intriguing fusion of luck and strategy. Make the most of your dice rolls while being mindful of your moves, as each decision can determine your victory.
Tournament - Without Opponent Tournament
Engage in a distinct tournament experience where you don't play against opponents directly. This unique tournament mode focuses on individual player performances rather than head-to-head matches. Earn points based on your gameplay and climb up the leaderboard to win enticing real money rewards.
Experience the thrill of playing Ludo Sikandar's diverse modes, all while enjoying the convenience of an online Ludo game. With the inclusion of real money rewards, Ludo Paytm Cash, and the opportunity to play Ludo anytime and anywhere, Ludo Sikandar offers an all-encompassing platform for entertainment and monetary gains. So, dive into the world of Ludo Sikandar and elevate your play to earn exciting rewards through strategic and engaging gameplay.
MPL - Mobile Premier League
MPL needs no introduction in the world of mobile gaming. Among its extensive repertoire of games, Ludo has found a special place. The platform brings players an immersive experience with its vibrant graphics and engaging gameplay. MPL takes the concept of Real Money Ludo Games to the next level, allowing players not only to compete against each other but also to win substantial prizes.
Ludo King, a name synonymous with Ludo in the digital era, has also embraced the concept of real money rewards. Combining nostalgia with the thrill of winning, Ludo King has taken the virtual Ludo board to new heights. Its interactive features and the chance to earn real cash make it a top choice for gaming enthusiasts seeking entertainment and rewards.
Gamezy Ludo sets itself apart by placing a strong emphasis on skill-based gameplay. Every strategic move in this game could lead you to victory and real cash prizes. The platform not only connects you with players across the globe but also offers a secure and fair environment for gaming.
Ludo Fantasy offers an enchanting twist to the traditional Ludo experience. With its visually appealing interface and immersive gameplay, players are transported to a world of excitement and rewards. The game's real money feature adds a competitive edge, making every dice roll more exhilarating.
Winzo Ludo boasts an expansive community of players passionate about gaming and winning. The platform's intuitive design ensures players of all skill levels can enjoy the game. Whether you're a casual player or a Ludo enthusiast, Winzo Ludo presents a chance to win big with every roll.
True to its name, Ludo Skill significantly emphasizes skill-based gameplay. As you strategize and make calculated moves, you're not just playing a game but entering a realm of real money opportunities. The game's competitive nature and lucrative rewards make it a favorite among those who value entertainment and earning potential.
Ludo 365 offers a dynamic platform where every day could bring forth a winning opportunity. Its user-centric approach ensures that players can seamlessly navigate the game while enjoying the thrill of competing for real money rewards. The platform's dedication to fair play and security adds to the player experience.
Adorable Benefits of Real Money Ludo Game
Engaging in real money, Ludo games offer many advantages that seamlessly combine entertainment with the potential for substantial earnings. Here are the key benefits of participating in these games through the best Ludo earning apps:
Real money Ludo games provide players with a unique opportunity to transform their leisure time into a source of income. Players can win actual cash prizes by showcasing their Ludo skills, making the gameplay enjoyable and financially rewarding.
2. Skill Enhancement and Strategy
Participating in real money Ludo games is more than just reliant on luck. Players must employ strategic thinking, planning, and skillful execution of moves. This enhances cognitive abilities, decision-making skills, and the capacity to analyze various game scenarios.
3. Convenience and Accessibility
Online Ludo games offer the convenience of playing whenever and wherever suits the player. This flexibility eliminates the need for physical boards, dice, and opponents. Players can indulge in Ludo without geographical constraints with a stable internet connection.
The best Ludo earning apps often feature a variety of gaming modes, each with distinct rules and challenges. These modes keep the gameplay fresh and engaging, catering to different preferences and skill levels.
5. Competitive and Social Interaction
Real money Ludo games pit players against opponents from diverse backgrounds, fostering a competitive environment. Social interaction enhances the thrill of facing off against real individuals.
6. Entertainment and Earning Blend
Engaging in real money Ludo games perfectly balances entertainment and financial gain. Players can relish the classic game while having the chance to earn extra income – an appealing combination for those seeking both fun and a supplementary revenue stream.
7. Skill-Based Tournaments
Many Ludo-earning apps host skill-based tournaments where players can showcase their expertise and compete for higher rewards. These tournaments often bring together top players, creating an atmosphere of healthy competition and camaraderie.
Embracing the benefits of real money Ludo games necessitates choosing the best Ludo earning app that prioritizes fairness, security, and transparency. When exploring these platforms, look for user reviews, the app's reputation, payment methods, and customer support quality. Ensure the platform adheres to responsible gaming practices, safeguarding players' interests and well-being.
Real money Ludo games offer an avenue for entertainment, skill development, and potential earnings. They cater to a diverse audience by combining classic gameplay with modern technology, enabling players to enjoy Ludo conveniently and profitably. However, it's important to approach these games with responsible gaming practices, treating them as entertainment while being mindful of the monetary aspect. By choosing reputable platforms and playing wisely, individuals can fully enjoy the benefits that real money Ludo games bring to the table.
Why should you choose Ludo Sikandar?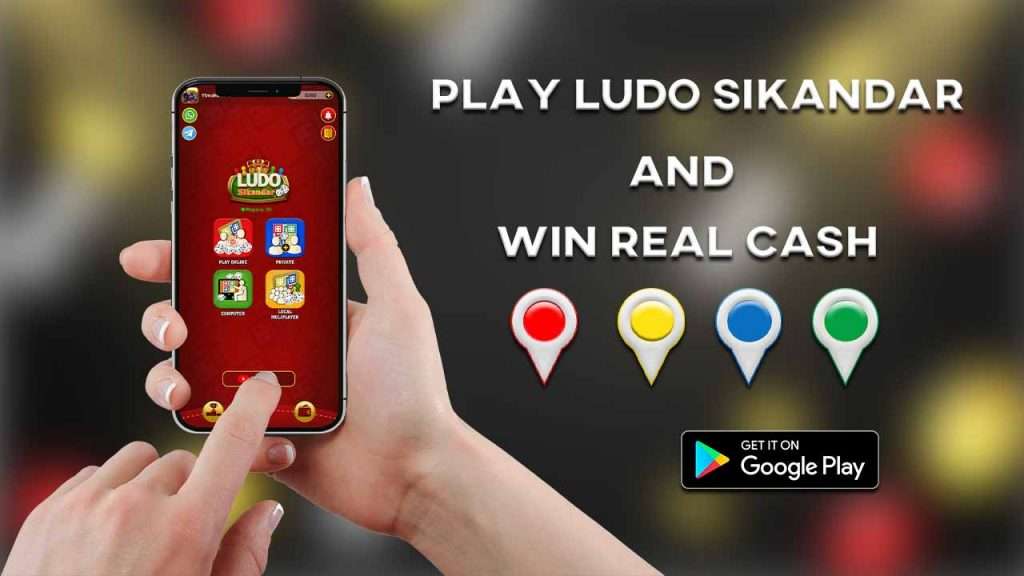 In the world of online Ludo games, "Ludo Sikandar" emerges as a standout platform, offering a host of compelling reasons to choose it for your gaming endeavors. Combining the thrill of classic Ludo gameplay with the allure of real money rewards, this platform offers an engaging and potentially lucrative experience. Here's why "Ludo Sikandar" is a top contender in the realm of real-money Ludo games:
1. Seamless Online Accessibility
"Ludo Sikandar" provides convenient access through its online platform. Whether at home or on the move, you can enjoy a round of Ludo without the limitations of physical boards or opponents.
Catering to various play styles and preferences, "Ludo Sikandar" offers an array of game modes. Whether you're a fan of classic Ludo or desire a twist of strategy, there's a mode tailored to your liking, ensuring a dynamic and enjoyable gaming experience.
One of the most appealing aspects of "Ludo Sikandar" is the opportunity to win real money prizes. Your skill and strategic thinking can translate into tangible earnings, making each move on the virtual Ludo board more exciting and potentially rewarding.
4. Enhanced Social Interaction
Engaging in online Ludo games on "Ludo Sikandar" introduces you to a global community of players. Interact, compete, and connect with enthusiasts worldwide, elevating the social aspect of your gaming journey.
5. Skill Development and Fun
Beyond the potential earnings, "Ludo Sikandar" promotes skill development and critical thinking. Strategize your moves, adapt to different game modes, and enhance your decision-making skills while enjoying the classic game of Ludo.
Safety and fairness are paramount at "Ludo Sikandar." The platform prioritizes the security of your gameplay and transactions, ensuring a trustworthy environment where you can focus on the game without worries.
7. Convenience and Flexibility
With "Ludo Sikandar," the hassle of setting up physical boards and coordinating with opponents becomes a thing of the past. Embrace the ease of online Ludo and play at your convenience, adjusting your gameplay to fit your schedule.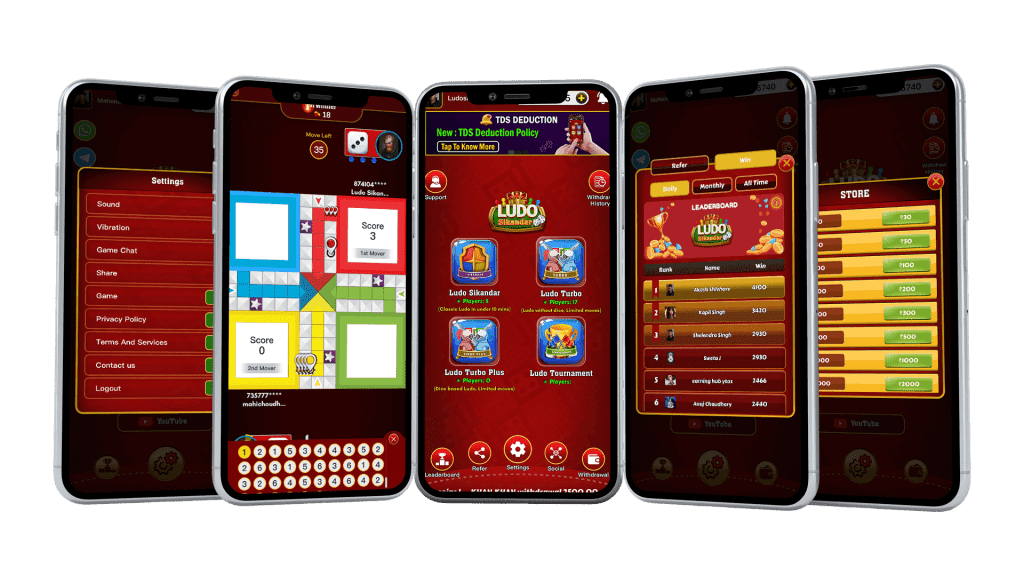 "Ludo Sikandar" brings together the best of both worlds – the timeless charm of Ludo and the potential for real money rewards. Whether you're a seasoned player or new to the game, this platform offers an immersive experience that combines entertainment, skill-building, and the thrill of winning real cash. Step into the virtual Ludo arena of "Ludo Sikandar" and embark on a journey where strategic moves can yield substantial rewards.
Best Ludo Earning Apps: Your Pathway to Earning Rewards
In a world where technology has transformed how we engage with entertainment, Real Money Ludo Games offer a unique blend of traditional gameplay and modern winning opportunities. These games allow players to relive Ludo's joy and reap the benefits of their skill and strategy through real cash rewards. From Ludo Sikandar's pioneering spirit to the immersive experiences offered by MPL, Ludo King, and others, the world of Real Money Ludo Games is thriving and here to stay.
So, why wait? Roll the dice, strategize your moves, and let the winnings roll in as you indulge in the exciting realm of Real Money Ludo Games!
The fusion of skill, strategy, and real money rewards has propelled Real Money Ludo Games into the limelight of the gaming industry. With a plethora of options like Ludo Fantasy, Winzo Ludo, and Ludo Skill, players are spoiled for choice. These platforms offer entertainment and a chance to turn their passion into profit. Embrace the future of gaming today by stepping into the world of Real Money Ludo Games – where every move could be your winning move.
Take advantage of the opportunity to be a part of this gaming revolution. Join the ranks of successful players who have turned their love for Ludo into a pathway to earning rewards while having a blast!
How does the real money Ludo game with instant withdrawal work?
In the real money Ludo game with instant withdrawal, you can participate in Ludo matches by wagering real money. You play against other players, and if you win, you earn real money rewards. The "instant withdrawal" feature means that when you want to cash out your winnings, you can do so immediately, and the funds are transferred to your chosen payment method without delay.
Is it legal to play a real money Ludo game with instant withdrawal?
The legality of such games varies depending on your country and local regulations. Some regions consider real money gaming as gambling and have specific laws regulating it. Research the laws in your jurisdiction to ensure compliance before participating in such games.
How do I start playing these real-money Ludo games?
Download a dedicated mobile app or access a website that offers real-money Ludo games to start playing. Deposit funds to play different Ludo matches with varying entry fees. If you win a match, your winnings are added to your account balance and can be withdrawn instantly.
What are the risks of playing real money Ludo?
Like any form of gambling, there are inherent risks when playing real money Ludo games. You're wagering actual money, and there's a chance you could lose it. It's important to play responsibly and within your means. Additionally, since the games involve digital transactions, cybersecurity concerns could arise if the platform needs to be properly secured.
Does there exist a strategy that can help me win?
While Ludo does involve an element of chance due to dice rolls, there are some strategic decisions you can make during the game. These might involve choosing which tokens to move, blocking opponents, and deciding when to use power-ups if available. However, winning is never guaranteed, and it's important to remember that outcomes are still influenced by luck.